Santa María Cathedral of Vitoria-Gasteiz is located at the top of the hill on which the original Gasteiz settlement that gave rise to the city was built and occupies the area bounded by its first walled enclosure. As the remains found and the parapet walk that encircles the building attest, it was attached to part of the medieval wall.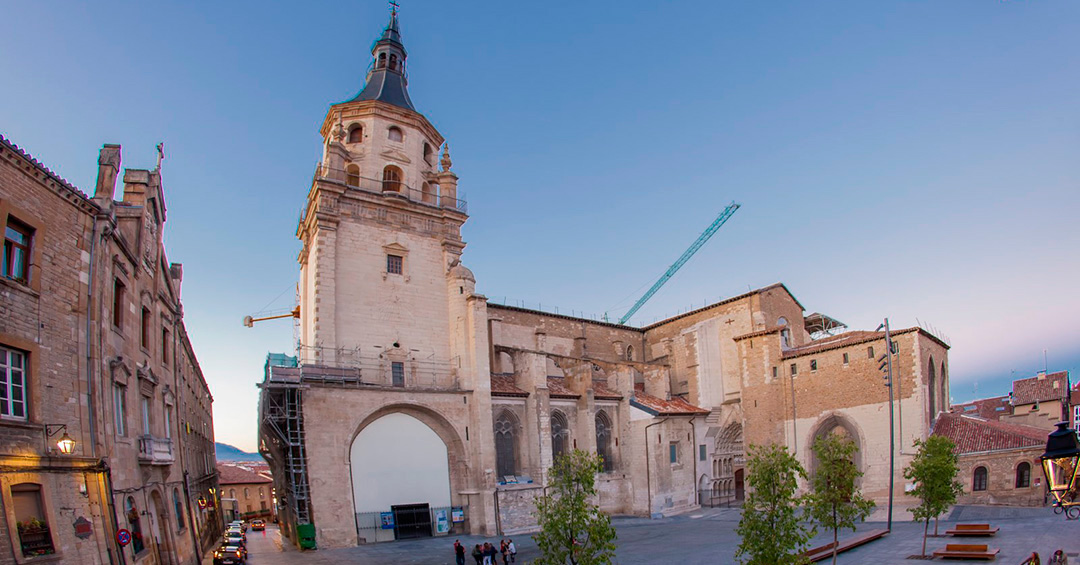 It consists of a group of buildings for different purposes built during distant historical eras. The church, which dates from the thirteenth century, is based on a Latin cross floor plan with a central nave and aisles on either side covered by ribbed vaults, and features a generous transept and apse. Inside it has four rectangular chapels and an ambulatory onto which three further polygonal chapels open. It also has a superb triforium and a 14th-century portico with three portals that has been polychromed throughout its history. The octagonal tower, with its bell tower that dates from the 16th-17th centuries, enables visitors to enjoy a unique panorama of the city.
The church of Santa María, the main building in the group, is also the oldest. The chapel of Santiago that opens on the gable end of the transept on the Epistle (south) side is currently the church of Santa María and has an independent access from the Plaza of the same name. The apse-shaped portico that protects the portal and the sixty-metre high bell tower rising over its southernmost third are found on the southern side. On the eastern side there is a series of buildings among which the late baroque sacristy stands out.